Higher survey consistency
Under some conditions, a drone can keep its speed and position more accurately than a person operating a vehicle or pushing a GPR cart.
Higher productivity
A drone-mounted GPR can perform surveys faster, more uniformly, and with higher degree of automation by following pre-planned missions.
Lower risk to personnel
No need for humans to enter dangerous or inaccessible areas.
Access to challenging environments
A person or a land vehicle might struggle on difficult terrain; this is not an issue for an airborne GPR.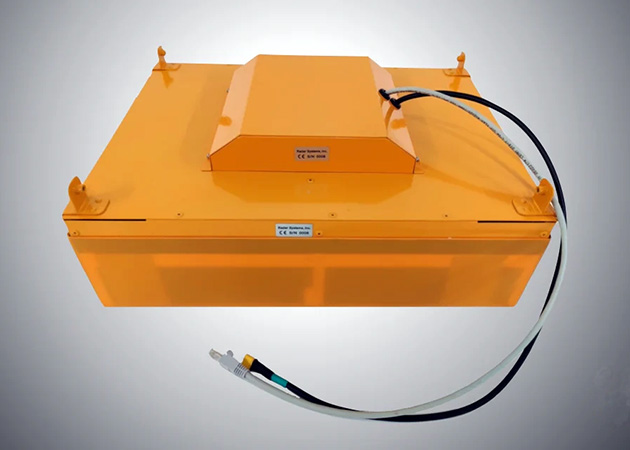 Designed for drone-based and on-the-ground surveys, Zond Aero 500 GPR is a single-channel Ground Penetrating Radar system with a shielded antenna
Center frequency:

500 MHz

Penetration from drone:

up to 13 feet/ 4 m in average soil

Penetration from drone in freshwater:


10 inches/ 0.25 m

Penetration from surface:

13-33 feet/ 4-10 m

Recommended maximum distance between antenna & surface in drone GPR surveys:


2 feet/ 0.6 m

Minimum size of detectable object from recommended altitude:


4 inches/ 10.0 cm
Data format: Standard geophysical SEGY file format (.sgy) with trace geotagging

Optional terrestrial cart is available for ground surveys.

Aero 500 GPR is FCC certified and ready for use in the US and other countries. Other frequencies are available where permitted by law.*
2-a
UAV—Long-endurance Skyfront Perimeter 8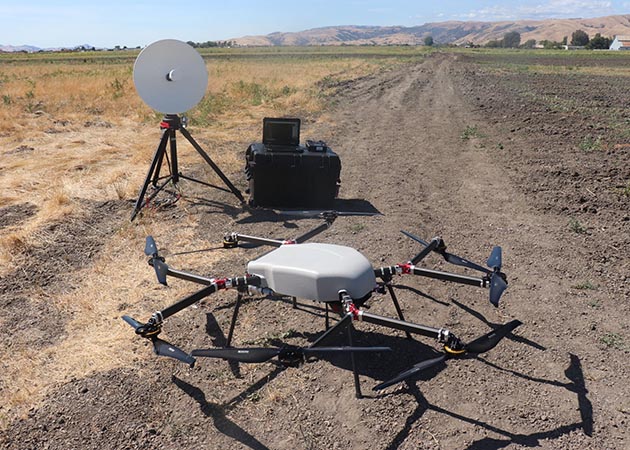 Skyfront Perimeter 8 drone is a long-endurance, long-range hybrid UAV with high payload capacity
✓ Extreme endurance and range—proprietary hybrid power system enables 5+ hours or up to 110 miles/ 177 km flight (134 miles/ 216 km with Perimeter 8+)
✓ Highly reliable engine with high-efficiency power conversion
✓ Full motor, propeller, and ESC redundancy
✓ Excellent wind resistance, with maximum tested wind speeds of 25 mph/ 35 km/hr
✓ Payload up to 17lbs/ 7.5kg or 22lbs/ 10kg (1 hour ) with Perimeter 8+
✓ Operating temperature -22°F/ -30°C (with Cold Temp upgrade from standard 15°F/ -10°C) to 122°F/ 50°C
✓ Engine vibration dampening preserves sensor data quality
✓ Other compatible and fully integrated payload options available
Choose from models with 30 mile/ 50 km and up to 134 mile/ 216 km communication range.

2-b
UAV—DJI Matrice 350 RTK or 300 RTK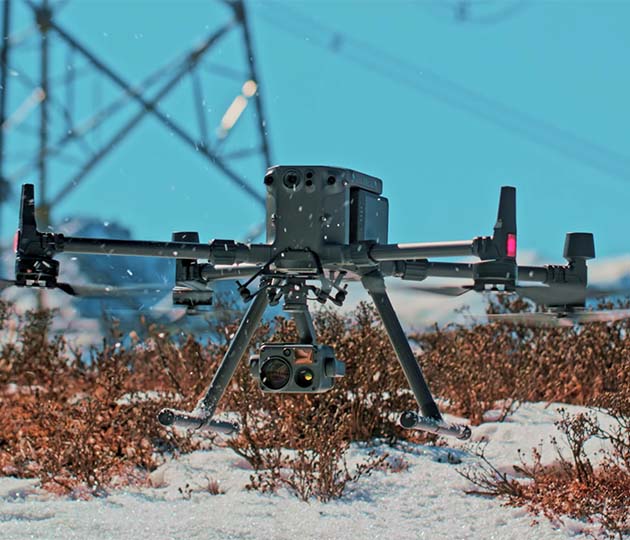 DJI Matrice 350/300 RTK drone is designed for commercial and industrial applications and professional imaging
✓ 9.3 mile/15 km transmission range
✓ Up to 3 simultaneous payloads
✓ IP45 rating
✓ Hot-swappable battery
✓ UAV Health Management System
✓ 6-directional sensing & positioning
✓ Supports ~40+ minutes of flight time with the GPR system
✓ Operating temperature -4°F/ -20°C to 122°F/ 50°C
✓ Other compatible and fully integrated payload options available

Supports DJI gimbals: Zenmuse XT2/XT S/Z30/H20/H20T
3
SkyHub on-board computer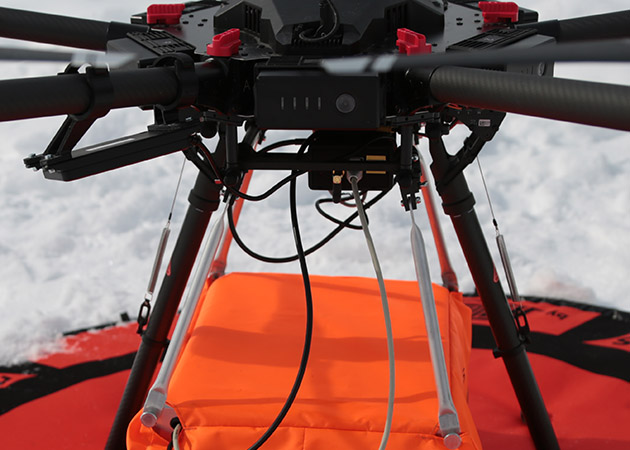 UgCS SkyHub is a hardware and software solution designed for payload integrations. It is used for:
✓ Getting data from an external payload, such as a GPR—GPR trace is displayed in-flight
✓ Getting flight parameters from a flight controller
✓ Automatic logging and geotagging sensor data with GPS coordinates from the autopilot
✓ Recording and conversion of data in formats convenient for processing and analysis
✓ Custom flight control algorithms
✓ Extended UAV diagnostics
✓ Safely using drones in adverse environments and where precise altitude is required
System includes altimeter-based True Terrain Following (TTF) required for reliable drone GPR surveys.

4
UgCS Mission Planning & Control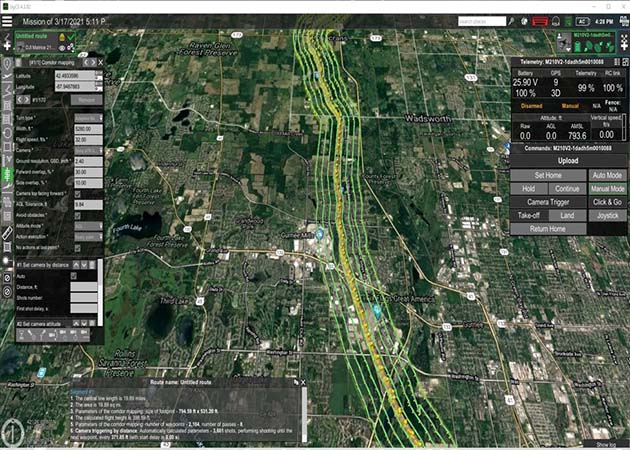 UgCS is a commercial-grade, cross-UAV-platform mission planning and flight control software with advanced capabilities
✓ Automated photogrammetry, vertical/façade scan, corridor mapping
✓ Waypoints, linear, circle, perimeter, and area scan tools
✓ Import and route creation from DTM/DSM and KML/CSV data, plus custom map overlays
✓ Route splitting & merging, with actions for multiple segments
✓ Map caching option to plan ahead and fly without the internet
✓ High-accuracy, UAV-specific flight simulator to test missions ahead of field work
✓ LIDAR-specific toolset (UgCS Enterprise)
✓ Live, geotagged video streaming (UgCS Enterprise)

System includes support for Aero 500 GPR—status of the current trace of radar and drone is displayed in UgCS.
Applications for Drone-borne GPR
Utility search
Locate underground cables, water & sewage pipes, gas pipes, oil pipes, storage tanks
Glaciology
Measure ice and snow thickness, supraglacial debris thickness, ice core glacial-interglacial cycles
Freshwater Bathymetry
Survey the bathymetry and sub-bottom features of freshwater lakes and rivers
Geological stratigraphy
Reveal stratigraphic architecture, sand-body geometry, sedimentary structures
Mining & quarrying
Find rocks, fractures, shear zones, faults, joints, depth to bedrock
Archeology
Search for artifacts, foundations, caves, tombs, tunnels, voids
Geotechnical surveys
Uncover sinkholes, cavities, groundwater depths, groundswells
Environmental remediation
Define landfills, contaminant plumes, storage tanks of potentially toxic materials
*The FCC restricts sales and operations of GPR devices to specific groups. It is the responsibility of Drone GPR operators to comply with relevant FCC and FAA requirements, rules and regulations.
In addition to the drone-borne ground-penetrating radar, we offer integrated methane detection, metal detection, magnetometer, echo sounder, and altimeter drone-based systems.

TELL US ABOUT YOUR PROJECT
Start Now